Wall Street FX has officially launched its utility token, WSTFX, and has burst through the $100,000 raised mark in a quick time. The token's unparalleled utility and its firm foothold within the forex community have cemented its status as an enticing opportunity for crypto influencers.
Lachen SZ, Switzerland, 10th Aug 2023 – Wall Street FX has embarked on a groundbreaking journey with the introduction of its utility token, WSTFX, a distinctive offering backed by a team steeped in expertise in modern finance. Analysts are already foreseeing a remarkable 100x surge in value for Wall Street FX when it makes its debut on exchanges. The initial presale stage witnessed an astonishing $100,000 worth of WSTFX tokens sold out in no time, underscoring the fervent enthusiasm of a potential 16-million-strong community.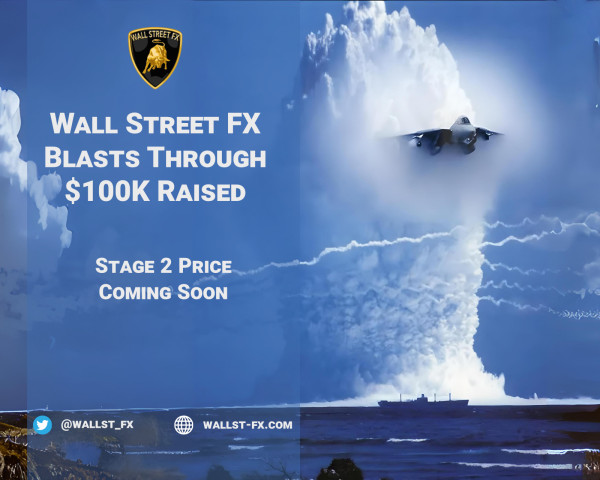 Demand for the WSTFX token has surged to unprecedented levels, leading to a rapid $100k being raised from eager investors mere moments after the launch announcement. Wall Street FX boasts a track record of managing billions in fiat money Foreign Exchange transactions monthly, driven by automated trading strategies fortified by Artificial Intelligence (AI) backed quantitative models. This strategic shift toward expanding relevance in the cryptocurrency realm has been spotlighted by the current presale of WSTFX tokens, virtually ensuring their future listing on top-tier crypto exchanges, such as Binance or Coinbase.
The Dawn of the King of Utility Tokens
Wall Street FX token stands poised to surpass the triumphs of iconic coins. The token's vast reach within the financial domain and its resonance among forex investors set it apart as an unrivaled utility token. The ability to seamlessly cross-sell between the forex and crypto sectors enhances its allure. Potential users can seize the opportunity today to acquire WSTFX tokens at a launch price of $0.01 before their listing on top exchanges.
A Global Community of Unmatched Influence
The Wall Street FX team's confidence in their thriving community of adept Foreign Exchange traders is evident. With 16 million MetaTrader 4, MetaTrader 5, and C Trader users, the community's influence cannot be underestimated. This powerful force is complemented by Wall Street FX's interaction with institutional Foreign Exchange liquidity providers, propelling its global reach across all seven continents and 195 countries.
Binance and Coinbase Listing: On the Horizon?
Analysts concur that Wall Street FX's extensive community virtually guarantees WSTFX's inclusion on Tier 1 crypto exchanges like Binance or Coinbase. Such a development could serve as a monumental catalyst, propelling WSTFX towards its ambitious goal of achieving a market cap exceeding $10 billion.
Empowering the Community: Massive WSTFX Airdrops Imminent
The total WSTFX token supply stands at 2 billion (2,000,000,000), with an unwavering focus on empowering the Crypto/Forex community. A remarkable 50% of the token supply is dedicated to the Wall Street FX community, fostering engagement and enthusiasm. The presale encompasses 50% of the token supply, with allocation for CEX liquidity, DEX liquidity, marketing, and the team.
Tokenomics:
Team 20%
Treasury 20%
Community 50%
Marketing 10%
Analysts Bullish on WSTFX: A Future of Promise
As utility coins thrive on community support and online presence, WSTFX sets itself apart with an active, vibrant community. This factor alone could spark excitement and captivate traders in the crypto landscape. The increasing demand for the token could lead to a remarkable surge in price, making WSTFX a compelling business opportunity. Potential users are strongly encouraged to partake in the presale to secure tokens at the most favorable discount and maximize potential gains.
Availability and Further Information
WSTFX can be acquired on both the Ethereum blockchain and Binance Smart Chain using popular cryptocurrencies such as ETH, BNB, or USDT (ERC-20 or BEP-20). Interested individuals can easily connect their crypto wallets on the www.wallst-fx.com to finalize their purchase. The first WSTFX airdrop is now live; participants can join the Discord community, engage on social platforms, hold, and trade WSTFX to qualify for the airdrop.
For more information, contact the Wall Street FX team at below social media links:
Media contact | Website | Telegram | Twitter | Discord
Media Contact
Organization: Lova GmbH
Contact Person: Peter Mueller
Website: http://www.lova-network.com
Email: [email protected]
Contact Number: +41 41 5110150
Address: Mittlere Bahnhofstrasse 10
City: Lachen SZ
Country: Switzerland
Release Id: 1008235359
The post Wall Street FX Crypto Surpasses Presale Milestone, Gears Up for Exchange Listing appeared first on King Newswire. It is provided by a third-party content provider. King Newswire makes no warranties or representations in connection with it.
Information contained on this page is provided by an independent third-party content provider. Binary News Network and this site make no warranties or representations in connection therewith. If you are affiliated with this page and would like it removed please contact [email protected]